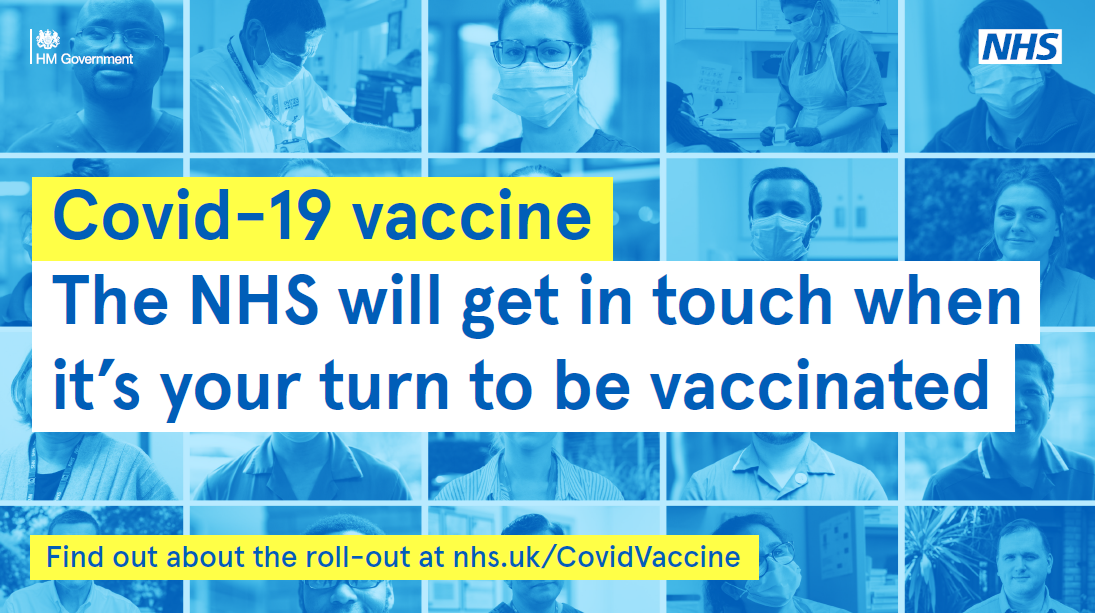 If you receive an invitation for vaccination that asks for your bank details this is a scam
Covid-19 vaccination is being provided free of charge under the NHS and at no point will you be asked to pay.
See this Action Fraud alert for more information and action you can take to report
For more information about Covid-19 vaccination, please see:
We are now offering vaccination to Priority Group 6 and above:
patients aged 65 years and over



shielded patients

(aged 16 and over)



patients with underlying health conditions

(aged 16-64 yrs, see FAQ)





frontline health & social care workers

(anyone employed to give direct personal care) - please check with your employer for vaccination arrangements in the first instance
Vaccinations are offered either within PCN clinics (see below for more information) or clinics that are just for Fireclay Health patients - both clinics are delivered from the usual GP & Nurse clinic rooms at Lodgeside Surgery
Next Clinics:
Fri 26th Feb am (AstraZeneca)
Clinics are based on our vaccine deliveries which are being managed at a national level - there will be no choice of vaccine on the day.
This page is updated with our clinic dates and vaccine available when known (Pfizer/BioNTech or Oxford/Astrazeneca) so a preference can be accommodated by booking on the relevant date.
When attending for vaccination
Please wear a face covering and
do not arrive more than 5 minutes early

when we are running large PCN clinics the Lodgeside Surgery car park will be restricted to Blue Badge holders - street parking is available nearby with additional parking at Cossham Hospital on 26th Feb (access via Selkirk Road from Lodge Road - only free of charge when directed by clinic marshalls)
We will invite our eligible patients when we are able to offer vaccination - please do not contact us unless you are in priority group 1-4 and have not yet received vaccination.
Remaining Group 5 patients will be contacted by the National Booking Service whilst we concentrate on Group 6 - please only contact us if you would have great difficulty attending a Mass Vaccination Centre
If you believe you are in Cohort 6, please do not contact the NHS - we will contact you.
Group 6 is large, covering a wide age range and many health conditions - please do not be concerned if you are not contacted immediately for vaccination or have to wait a short while to book an appointment.
We appreciate it can be confusing for individuals to know if they belong to one group or another. We are following a series of nationally defined criteria (see FAQ below) which allows us to contact people in who we want to come forward for vaccination in priority order.
We are working tirelessly to vaccinate our patients as quickly as possible using every potential slot and every dose of vaccine as soon as we receive it. Please be patient and kind to our staff; we will be in touch when it is your turn.
We send SMS invitations using a service called AccuBook - sent by 'Fireclay', these texts include an accurx.thirdparty.nhs.uk link to book your appointment online (using Smartphone or by copying link into web browser).
This is a unique link - you can only use it for the person the SMS is addressed to (date of birth confirmation required).
You can use this link to book or decline invitation, including letting us know if you are booked to receive vaccination elsewhere
We will supplement this system with emails and phone calls - we will contact you if you do not have a mobile phone or your SMS link remains unused.
You may also receive a letter from the national booking team with an invitation to vaccination at Ashton Gate or other Mass Vaccination Centres - you are welcome to book at whichever location is more convenient.
If necessary please contact us to update your details with us to ensure you receive prompt notification of appointment availability.
Covid-19 vaccinations are being delivered through Primary Care Networks (PCNs). Fireclay Health is part of the FOSS PCN (Fireclay and Old School Surgery) PCN - staff from both practices will be working together to deliver vaccination clinics at our Lodgeside Surgery site.
You can read Old School Surgery's information about Covid-19 vaccination here - their patients will be able to make an appointment via their own practice.
We apologise if you will have further to travel to our clinic location however this is necessary in order to deliver the vaccination at scale, with the cold chain requirements for the Pfizer vaccine giving us nearly 1200 doses to deliver within 3 and a half days.
If you would like to volunteer to provide support to the mass vaccination programme you can email recruitment.massvaccination@nhs.nhs.uk
Who can and cannot receive vaccination
The Covid-19 vaccines are safe for people with immune system disorders as they do not contain living organisms
They do not contain any animal products or egg
Under current advice you should not be vaccinated if you:
have had a postive Covid-19 test in the last 4 weeks
are generally unwell - try to have it as soon as possible after you have recovered
are self-isolating, waiting for a COVID-19 test or unsure if you are fit and well
have had another vaccination (e.g. Flu) in the previous 7 days
are aged under 16 years of age
Vaccine specifics
If you have ever had a serious allergic reaction to medicines, vaccines or food you are advised not to receive the Pfizer vaccine. The AstraZeneca vaccine can be given unless you have had a previous severe allergic reaction to another vaccine.
If you are aged 16-17 you should receive the Pfizer vaccine - the AstraZeneca vaccine is not licensed for under 18's
Pregnancy & Breastfeeding
There are no known risks for women who are vaccinated against COVID-19 during any stage of pregnancy or shortly before conception, however vaccination with the Pfizer or AstraZeneca vaccine will only be considered for pregnant women when the potential benefits outweigh any potential risks for the mother and foetus
Women who are trying to become pregnant do not need to avoid pregnancy after vaccination
There is no known risk associated with giving non-live vaccines whilst breastfeeding - breastfeeding women may be offered vaccination with the Pfizer or AstraZeneca vaccines
For more information, please read:
Your second vaccination dose
Two doses of Covid-19 vaccine are advised - without the second dose the immunity gained from your first dose may not be strong enough or last long enough. However even with just one dose the Pfizer/BioNTech vaccine has been estimated to offer 89% effectiveness from two weeks after it is given and the Oxford/AstraZeneca has been estimated to offer 74% effectiveness in the same timeframe.
We will contact you again when it is time for you receive your booster dose - this is currently expected to be 11-12 weeks after your first dose.
Your second vaccine dose should be with the same vaccine as your first dose. Switching between vaccines or missing the second dose is not advised as this may affect the duration of protection.
For more information on the NHS protocol for second doses see this patient information leaflet produced by BNSSG Healthier Together
Frequently Asked Questions
Can I choose a particular Covid-19 vaccine?
No - when you book into a vaccination clinic you will be given the vaccine we have been supplied for that date.
Please see our upcoming vaccination clinic information at the top of this page for vaccine on offer. We would advise reading the patient information for both Pfizer/BioNTech and Oxford/AstraZeneca vaccines so you are prepared to consent for either vaccination.
The Moderna vaccine has also been approved for use however we do not expect to receive this.
I do not want the Covid-19 vaccination, please can you stop inviting me?
Please let us know that you would like to decline vaccination - we will record this on your notes and will not then invite you again.
Does my health condition qualify me for Group 6 vaccination?
If you qualify for Group 6 this will show as a flag on your record and we will be contacting you shortly to invite you for vaccination. If this flag is absent we will not be able to vaccinate you within this cohort.
You are likely to be in Group 6 if you are eligible for an annual flu vaccination due to your clinical risk and/or are invited by us for an annual Long Term Condition review however this may not always be the case. This is a large and complicated cohort to define - some common queries include:
mild or well-controlled asthma does NOT qualify - asthmatics are only eligible if ever had an emergency asthma admission or where require continuous/repeated use of oral steroids (3 prescriptions in last year)


ME/CFS (Chronic Fatigue Syndrome) is NOT currently specified as an eligible Group 6 condition - you can follow any updates on this position via the ME Society


patients with Hypertension only do NOT qualify


Rheumatoid Arthritis only qualifies if you are treated with immunosuppressive medication


patients with Coeliac disease only qualify if have only if reduced spleen function
More detail about the Group 6 underlying health conditions is given in the Green Book chapter 14a (page 9)
I am a Carer - can I receive vaccination?
If you are employed to provide direct personal care this comes under priority Group 2 - please check vaccination arrangements with your employer in the first instance.
Unpaid carers qualify under priority Group 6 if:
eligible for a carer's allowance, or sole/main carer of an elderly or disabled person who is at increased risk of COVID-19 mortality (clinically vulnerable)
delivering personal care to the individual at risk - this does not include for example, shopping or cleaning
If you are on a Carers Register (e.g. with us or your Local Authority if you are in receipt of Carers Allowance) you will be invited for vaccination by us and/or through the National Booking Service - please wait until you are called.
A national system is being developed which will enable others to self-identify as a carer and book a vaccination. Further information on this system will be available in the coming weeks. In the meantime please do not contact us or the local authority to request a vaccination.
Please see our Carers page for information about support available.
I can't get to the surgery, can I have vaccination at home?
Our initial deliveries were Pfizer vaccine which is not suitable for taking to patient homes due to its cold chain requirements. We now have supplies of AstraZeneca vaccine and are starting to provide vaccination to our housebound patients in the eligible cohorts - it may take some time before we can vaccinate everyone.
We are inviting all patients in the currently eligible cohorts in case housebound patients are able to be supported to attend the surgery for earlier vaccination. If this is not possible, contact us after receiving your invitation to be added to our housebound visit waiting list.
If we do not have you recorded as housebound we would ask you to attend a surgery-based clinic for vaccination.